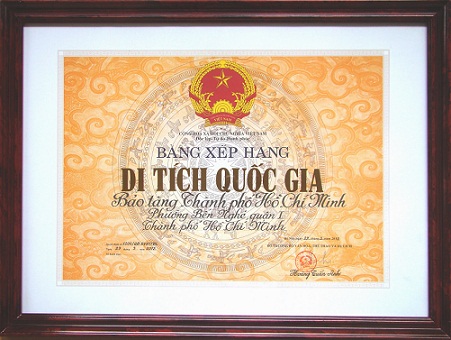 On May 19, 2012, Ho Chi Minh City Museum was honored to be recognized by the Ministry of Culture, Sports and Tourism as a National Historical and Cultural Relic.
            Ho Chi Minh City Museum building built in 1885, designed by French architect Alfred Foulhoux, is one of the unique artistic architectural works with a harmonious combination of Western architecture. and the East. In particular, this place has taken place many historical events of Saigon – Ho Chi Minh City.
           Also on this occasion, there are units recognized as National Relics such as:  Vietnam History Museum – Ho Chi Minh City; People's Court of Ho Chi Minh City; Ho Chi Minh City Theater, and recognized as a City-level Monument, include:  Buu Son Pagoda, Continental Hotel, Nguyen Thi Minh Khai High School, Ho Chi Minh City Museum of Fine Arts, Tan Khai Communal House, Communal House Binh Khanh and the tomb of the sage Tran Quang Dao, Dinh Phu Xuan .