Formed in a multi-ethnic country, bearing the characteristics of the culture of rice agriculture, where the majority were farmers, folk belief of the Vietnamese people from time immemorial had to leave the rich and bold mark in the spiritual life through the festivals, the worships in the  temple,  communal house…
          When reclaiming the Southern land, Vietnamese people brought the above folk beliefs in their own cultural baggage. Besides the worship of village's tutelary God in the communal house. In the process of living together, cultural exchanges of the Vietnamese, Hoa, Cham, Khmer ethnic groups… There were more factors of other beliefs had been imported and they were harmonious with the elements of the Vietnamese belief which created a new aspect that was abundant and diversified: cult of Chua Xu Lady, Thien Y Ana, Chua Tien Lady, Thien Hau Lady, Ngu hanh Nuong Nuong, Me Sanh, Me Do…           
          Besides, Vietnamese and Hoa communities also keep the  worship of ancestor, the God of Earth, God of Weath… and celebrity worship: Hung Vuong King, Hai Ba Trung, Tran Hung Dao, Quan Cong… Belief in the South, absorbed deep in the minds of the people, expressing the gratitude, respect for people who protect their life in the period of  exploitation  – it is also moral standards and a spiritual fulcrum from many generations of the Vietnamese residents. It also reflects the cultural characteristics in the South which shows the flexibility of the culture of Vietnam.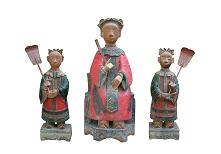 * Objects:
– "Quan Cong" statue, wood – late 19th century.
– "Linh Son" Mother statue, wood – early 20th century
– Domestic woman statues, wood – early 20th century
– Boy servant statue, wood – early 20th century
– Collection of God of Wealth and God of Earth, ceramic – early-middle 20th century
– Altar of God of  Wealth, God of Earth – Ho Chi Minh City
– Statues of Wood, Earth, Fire, Water, relating to the fields of soil, fire, metal, wood and water – fist half of 20th century, wood.