The special exhibition of "Thousand years of Vietnamese ceramics" introduces over 250 artefacts of the Museum of Ho Chi Minh City, the Museun of Vietnamese History in Ho Chi Minh City, Fine Art Museum of Ho Chi Minh City, Southern Women Museum and some individial collectors. The special exhibition is open from August 28th to December 28th 2010 at the Museum of Ho Chi Minh City.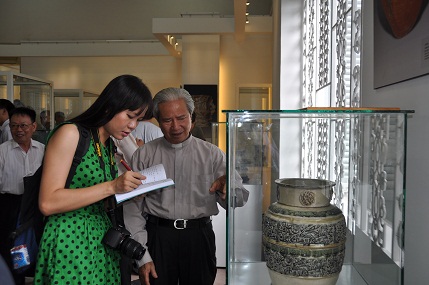 Over 10 centuries, Vietnam ceramics has become famous all over the world with pottery villages identifiable on the world map of   ceramics such as Chu Dau, Bat Trang, Tho Ha, Phu Lang, Bien Hoa, Lai Thieu… At each stage, Vietnamese ceramics has developed with its own characteristics: celadon-glazed ceramics of the Ly dynasty, brown-flowered ceramics of the Tran dynasty and blue-flowered ceramics of the Le Dynasty. But there was a skillful combination between art and technology to create the special mark of identity. Due to the harmonious combination of the soil, water, fire and the  spirit of Vietnamese has created many marvelous ceramic products which  present in major museums around the world. Vietnamese ceramics has overcome space and time to become a precious cultural heritage of Vietnam and the World.
The 10th century marked a turning point in history: the period of independence after more than 10 centuries of Northern feudal domination. Especially when Dai La was chosen to establish the capital and renamed Thang Long in 1010, the Ly dynasty started a period of  the economic and cultural development of the National history.
During the renaissance period of the National culture, Vietnamese ceramics Ly-Tran (century 11-14) have achieved brilliant accomplishments both technical and artistic decoration on all kinds of ivory-glazed ceramics, blue-glazed ceramics to celadon-glazed ceramics, brown-glazed ceramics with  the natural patterns, close to the rustic life of Vietnamese.
15th – 18th centuries, the North Vietnamese ceramics were produced not only for domestic demand, which along with ceramics of Go Sanh (Central) were the popular exports in many countries in East and Southeast Asia, Egypt as well. Multi-colour glazed ceramics, blue glazed ceramics and ceramic drawn colors on its glaze … especially blue-flowered ceramics with many categories levelled  of fine art and high technology have been used very commonly in many countries in Southeast Asia .
From 19th century until the early 20th century, Vietnamese ceramics were no longer prevalent in the development stage. However the traditional pottery village continued to be maintained: Bat Trang (Hanoi), Phu Lang (Bac Ninh), Tho Ha (Bac Giang) … in the Northern Region; Phuoc Tich (Thua Thien-Hue), Quang Duc (Quang Ngai), Chau O (Phu Yen)… in Central and some other areas in the the Southern Region, new potter's kiln continued to develop strongly: Cay Mai (Cho Lon), Lai Thieu (Binh Duong), Bien Hoa (Dong Nai).         
10 centuries Vietnamese ceramics, along with the historical vicissitudes of the Nation have created a nuanced, a separate tradition, contributing to enrich the cultural heritage of Vietnam; a solid platform for today's pottery of Vietnam which develop and integrate with countries in the world.