The industry of Ho Chi Minh City developed from the handicraft villages and "Ty thợ" belonging to Dinh Phien Tran, over 300 years ago.
Today, although the traditional handicraft villages have lost their important roles in the economy, they still contain a cultural value in Ho Chi Minh City.
                                                    Handicraft villages of Saigon – Ho Chi Minh City
1/ Pottery
            Pottery in Viet Nam was present at the Stone Age (10,000 years ago). In the 17th century, the immigrations of the Hoa and Viet people ethnic groups to Sai Gon – Gia Dinh. The pottery was formed and developed which created the fame for the Sai Gon ceramic.
            The progress of a product includes kneading clay, shape making, decorating, covering glaze and then putting it in the oven kiln.
            Sai Gon ceramic products were well-known for its household items: A set of cups, pots, and plates…; For the worship: Statue, incense burners, lamp-stands…; and for the decorations: Vases, pots, terra-cotta seats…
            Today, Long Binh (District 9), Trung An (Cu Chi District) still produce ceramics, which not only contribute to the City people's life, but are also consumed in the areas and beyond as the cultural products of Viet Nam.
Objects: – Tools for pottery making: Pottery moulds, pottery covers, pottery wheel…
– Sai Gon ceramic products in the early 20th century: wine jar, statue of peacock, flower pot, vase, terra-cotta seat…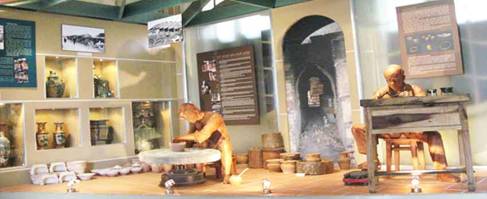 2/ Jewellery making industry
          In the late 2nd and early 3rd century, the Jewellery making industry developed. In the 18th century, together with the process of clearing waste in Sai Gon – Gia Đinh land and due to the market factor, the Jewellery making industry grew quickly, which gathered the professionally skilled engravers in Sai Gon. The most popular products now include bracelets, earings, necklaces, and rings… not only in the local area, but in the South east Asian region as well.
            For making the sharp jewellery products, the jewellers have to grasp 3 important technology steps: Engraving, smooth. A master jeweller is  also skilful the traditional  smelting technology.
            Through the pattern of decoration on the products we appreciate  the patience, intelligence and the creativity of the Vietnamese jewellers
         In Ho Chi Minh City, the Jewellery making industry continues to thrive in districts: 5, 6, Phu Nhuan and in Binh Thanh.
Objects: Silver products: Purses, jar, lime jar, cerablace.
3/ Wood- engraving
            Wood- engraving was present in Sai Gon – Gia Dinh in 17th century by the Viet and Hoa immigrants. Due to the demands of art construction and activities they formed the professionally skilled engravers in Sai Gon.
            Wood- engraving techniques include engraving, intaglio, embossing.
            For completing a work, a carver had to draw in wood, engraving, repairing, and then fit it in the wood. The steps of sketching, shaping, whittling can be assumed by a main engraver. The assistant carver can take responsibility for carving, scrapping and burnishing.
            Wood-engravings were produced for domestic demands. Today, they are exported to several countries.
Objects:
– Tools for wood-engraving: Chisels, set square, right angle ruler, plane, tool for lining, plane, plane, hammer, stick, tenon saw, string drill, tenon fitting saw, square angle saw.
            – Products: Scrolls was made by  Nghe Xuong company in the 20th century, wood statue of lion.
4/ Weaving
        Since the Bronze age (3,500 years ago), weaving came into being in Viet Nam. In 17th century, the Vietnamese brought traditional weaving when they came to clear waste the southern land. In the first haft of the 19th century, weaving developed to form the trade villages, such as Bay Hien (Tan Binh), Hang Dong (Phu Nhuan), Bui Mon (Hoc Mon), Tam Ha (Thu Duc)…  
            Using a woden loom or weaving manually were the ancient weaving techniques. A weaver had to blind loom, shuttle then pulling thread. In the first haft of the 20th century, the machine was replaced in the textile process. Today, textile industry make great strides with the modern technologies.
            Nowadays,  garment industry, together with textile, is also a fast-growing industry, which supply domestic demands and export to the foreign countries.
Objects
– Weaving, weaving shuttles.
5/ Bronze casting
            Bronze casting has developed in Viet Nam since the Bronze age (3500 years ago). The process of clearing waste Sai Gon – Gia Dinh land was also the process of establishing  many famous bronze casting villages, such as Cho Quan (district 5), Tan Kieng, Nhon Giang, Binh Yen (Cho Lon), Tan Hoa Dong (District 6), Hoa Hung (district 10).
            Bronze products included household items or objects of  worship such as: Pots, trays, pans, irons, censer man statues, budish statues.
            A product was made by three principal steps: Making a mould, casting, and cooling. The moulds were made of soil and wax, then heating them  for three hours at 8000c –  9000c. Molten bronze was poured  into the moulds. The wax melted and bronze filled with the wax mould, which results  in the carving and burnishing the products.
Today, in Ho Chi Minh City, Tan Hoa Dong (district 6), Thong Tay Hoi (Go Vap), Thuan Kieu (Hoc Mon) still produce bronze objects today.
Objects:
–  Moulds used for copper censer carting of Ut Kien enterprise, Go Vap district, pot used for burning molten copper
            – Copper products: copper tray, copper incense, copper irons, copper tortoise crane lamp-stands
Industry of Saigon – Ho Chi Minh city
In the French period, mechanization began as industry became more diverse. It started with personal prodution and hand – crafting and went on to become factories and workshops. In the period 1954 – 1975 the industrial zones and factories were built with modern technology, such as processing food products, mechanics, textile and garment industry.
From 1975 to the present, the industry of Ho Chi Minh City has diversified into many more fields: household mechanics, technology equipments, electronics, telecommunication and other high technology branches. These promote high production value, quality and prestigious brand name.  this affirms Ho Chi Minh City as an industrial centre of Vietnam and plays an important part in promoting the development economy and society of the city.
The exhibition represents first industrial factories of Sai Gon: 
–  Objects of Cho Quan power Station, used from 1923:
Thehorn was for warning of the water level in the turbine.

Velocitymeter was used to check the turbine when it started.

Turbinevelocitymeter.

Thermo–Electrometer.

Valveforoil supplying the low pressure oven.

Houroperatingmeter.

Turbinstrength-meter.

Temperaturegauge.
– Welding machine: Manufactured In 1982.
– Air compressor: used for storing cold food, processing oil and smelting metal, manufactured in 1982.
– Pump: awarded a gold medal at the Ha Noi technical  and economic trade fair in 1985.
In the central part of room, the exhibition introduces the development industrial branches, such as mechanical, manufacturing, telecommunications, electronics, information technology, biotechnology, producing new materials, producing raw materials for industry and processing agriculture product,…all of which have high scientific content and use modern technology to become a key part of the economy for the city; Especially, new high technology zone has been built and developed as a breakthrough which contributes to promote the economic restructuring in the new period.
– The industrial parks, export processing zones, high technology zone in Ho Chi Minh City:  Tan Thuan export processing zone, Linh Trung export processing zone, Binh Chieu industrial park, Hiep Phuoc industrial park, Cat Lai industrial zone…