Currency has played an important role in relation with countries' development history. In Vietnam, the first coins, "Thai Binh Hung Bao",  were cast by the Dinh dynasty (968-980). The successive dynasties from Dinh, Le, Ly, Tran to Nguyen dynasty produced their own coins. Particularly, the first time in Vietnam's history, Ho Quy Ly mandarin planed to issue the paper currency under the Tran dynasty (1396).
Under the French Indochinese government, bronze and zinc coins were replaced with silver coins that were cast in the style of circle without square in the middle of coins. At the same time, the paper currency was common circulation.
Currency of the State bank of Vietnam was issued at the first period of the anti-French resistance war that has been kept an important role of independent Vietnam country.            
The "Vietnam currency" exhibition represents over 1000 objects of coins and paper currency of the Ho Chi Minh City Museum.    
* Objects:
– Coins of Vietnam feudal dynasties.
– Bronze, Zinc coins (16th – 18th century)
– Coin measure (type of four slot) – Wood (19TH century)
– Coin measure (type of two slot) – Wood (19TH century)

– Coin string – Bronze (18th century)
– Clotted coin – Bronze (18th century)
– Bonus (large coins) of the Le dynasty – "Canh Hung Thong Bao" (1740-1786) – Bronze
 – Bonus (large coins) of Tay Son dynasty – "Canh Thinh Thong Bao" (1793-1801) – Bronze
– "Bao Dai Bao Giam" gold Bonus (large coin) (1926-1945)
– "Thieu Tri Nien Tao" silver bar (1846)
   – "Tu Duc Nien Tao" silver bar (1848-1883) .
 This exhibition represents some collections of Vienam currency, such as:
* Bonus (large coin) in the reign of Minh Mang King (1830):
In summer May, the 11th Minh Menh reign (1830), casting big bronze coins with the legend "Minh Menh Thong Bao". Total of these coins are ten thousand coins, including two characters  that were 20 pieces engraving 8 words and 10 pieces engraving  4 words.    
Source: Dai Nam Thuc Luc book ,part III.
* Silver bar of the Nguyen dynasty (1802-1945)
In Octorber, the  11th Gia Long reign (1812), starting to cast silver bar. The King said that: "casting coins made for  property's people and exchanging". 
 Source: Dai Nam Thuc Luc book, part I.
* Coins of the French Colonial Administration (1874-1954)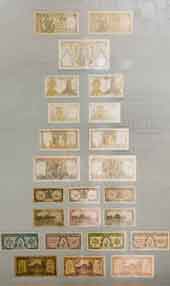 – Banknotes of Indochina Bank
In 1875, Indochina bank was found in Saigon. The first notes were printed in France and issued in South Vietnam.
In 1897, establishing a branch of Indochina Bank in Hai Phong province. The initial Indochina Bank notes that were issued in Saigon, Hai Phong were printed in French, English. These included denominations from 5, 10 pennies to 1, 5, 20, 100, 200 piastres. Firstly, South Vietnam and North Vietnam circulated private currency. After 1920, new notes circulated in the whole Indochina.
– Notes of Indochina Bank
"Indochina Bank" 1 piastres note included Chinese, Vietnamese, Cambodian languages. The images of Vietnam and Cambodia were printed in note.
Five-piastres notes were printed "peacock", twenty-piastres were printed four-faced statue found at bayon temple, one-hundred-piastres were incense burner image.
– Notes of the Indochinese government (Gouvernement Général de L'indochine).
The French government issued notes "The Indochinese government" in Hanoi in 1940.
In this term, the government also issued lead coins with rice ears image.
* Notes of Cambodia, Laos, Vietnamese Emission Institute.
On September 2nd 1945, Republic Democratic of Vietnam established and launched decree to issue Vietnam notes on January 31 st 1946.
In this time, French Indochinese currency still circulated in Indochina wide. When shortage of currency, a note was tore in two to use. Then, the French reoccupied Vietnam, French currency were circulated in French occupied regions.
* Objects:
– Land selling paper, total of area is 1 hectare, cost of 15 quan at Dong Ho commune, Phu Vang district, 1787.
– Receipt of mr. tran van thanh at tan phong district, 1821.
– House selling paper, price of 180 piastres, at Nam Chon commune, Binh Chanh  district, 1886.
– Document of bonus reward for Pham Van Lien mandarin at Phu Tai commune, Ham Thuan district, Binh Thuan province, 1927.
– Decision of government about issuing Banknote of Vietnam Bank which change old Banknotes, 1975.
* Banknotes of Democratic Republic of Vietnam currency ("Financial notes")
On February 9th 1945, the government of Democratic Republic of Vietnam was found in January 1st 1946 the Ho Chi Minh president signed  decree on the issue of Vietnam banknotes (calling financial notes) that replaced Indochinese bank notes. In November, 30th 1946, new notes was issued and circulated in North, North-middle regions including Thanh Hoa, Nghe An, Ha Tinh provinces…
In June 5th 1951, the No 15/sl decree of government found Vietnam State Bank and replaced  Democratic Republic of Vietnam banknotes by banknotes of State Bank. 
* Vietnam Financial Banknotes
In the first period, the South had not condition to issue of Vietnam Financial Banknotes, these solution was using Indochina Bank notes that was affixed a seal of the local Administrative Resistance Committee
          On November, 1st 1947, the N0 102/sl decree of the president of Democratic Republic of Vietnam and decision of  the South Administrative Resistance Committee allowed of printing notes of Vietnam in South, notes of local. The other notes as  supply tickets, exchange tickets and credit cards… were issued in province, district, local  regions
* The Banknotes of the Vietnam State Bank
On September 13th 1985, the N0 01DĐBT/TĐ decision of Council of Ministers about issue new banknotes and call in old bank banknotes 
On september 14th 1985, the State Bank of Vietnam has been authorized to issue the new currency of Socialist Republic of Vietnam and gather back currency that circulating to exchange for new banknotes at the rate of 1 new dong  to 10 old ones. The new banknotes symtem had a range of notes from 50 xu to 5000 dong. Later, other kinds of note of 10.000, 20.000, 50.000  dong
Nowadays, the Vietnam currency symtem circulating including 2 types are banknotes and coins
+ Banknotes have 12 face value including: 500.000, 200.000, 100.000, 50.000, 20.000, 10.000, 5000, 2000, 1000, 500, 200 and 100 dong
+ Coins have 5 face value including: 5000, 2000, 1000, 500 and 200 dong.