Saigon map 1623 – 1679
The establishing period of Saigon, Saigon has become the capital city of Gia dinh. Map represents the way from Saigon to Mekong delta, Cambodia, Dongnai. It can be see Saigon has been the town, the important economy center, the strategic military point with Headquarter of Dieu Khienmandarin, Administration offices, tax station, villages of 10,000 people.
Saigon map 1795
Designed by Le Brun in 1795. On this map, it can see road system as chessboard, administration stations, working shops, religious temples, two important inhabitant zones (Saigon, Cholon), Gia dinh citadel,
Tran Van Hoc map 1815
The map represent abundant activities on economy, culture. Many new scattered settlements on roads, canals, specially on the North side of Ben Nghe canal. It can see Cho Quan bronze casting ward and other handcraft hamlets of mat weaving, blacksmith's, thread, pottery making.. At that time, Saigon – Giadinh became a crowded economy center with two important zones: District 1 and Cholon connected by Ben Nghe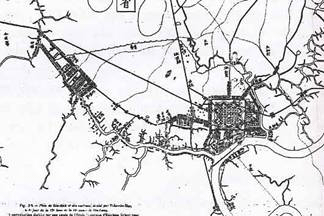 Sai gon map  1898.
It named Saigon "Paris of Far East". The French Indochinese government promulgated Saigon the capital of the French Indochina. The French Indochinese governor palace stationed in Saigon. The map represented Saigon crowded and ordered city. Lon canal became Charner boulevard. Modern city's works were constructed: Saigon – Mytho railway length of 71 kilometers (1885), the Southern product displaying Hall in 1890 (now is Ho Chi Minh city museum), telephone network of Saigon – Quinhon – Danang – Hue – Vinh – Hanoi length of 2,000 kilometers (1888)..
Saigon – Cholon map 1954
In 1931, Saigon merged with Cholon. The Saigon – Cholon city had a population of 300,000. Rural areas were replaced with closed quaters such as Tan Dinh, Da Kao, Phu Lam, Phu Tho wards. Saigon was named Far East's pearl.